Subscribe & Save importance in Dog & Cat food
As with our own weekly shop - convenience & value for money is exactly what Amazon shoppers of premium Dog & Cat food look for on a regular basis.
When analysing both categories across the period January-July 2023 it was identified that 76% of all purchases made by shoppers into a Premium Dog/Cat food brand are repeat purchases. This is unsurprising when you take into account that 58% of the Dog food revenue on Amazon is delivered via S&S. How does this stack up against other categories you ask? Its subscription rates are more than 20 percentage points (ppts) than "human food" (Groceries) at 34% - and is growing 7% MoM!
Cat food subscription rates account for 46% of its total category revenue & whilst this level is plateauing slightly - still represents an incredibly strong route to consumers and revenue driver for brands.

For either Dog or Cat though, these are everyday essentials for owners to consider. This product needs to be restocked on a regular basis and with pets tending to stick to the same type or even brand of food - owners are restricted in their ability to shop around for deals in the way you perhaps would with groceries. As such, providing an enticing subscribe & save offer (of between 10-15%) can go a long way to recruiting new customers into your brand. Whilst the S&S investment needs to be made and factored into your costs - these customers in time will deliver a more consistent and higher spend per customer (+50%) than non-subscribers.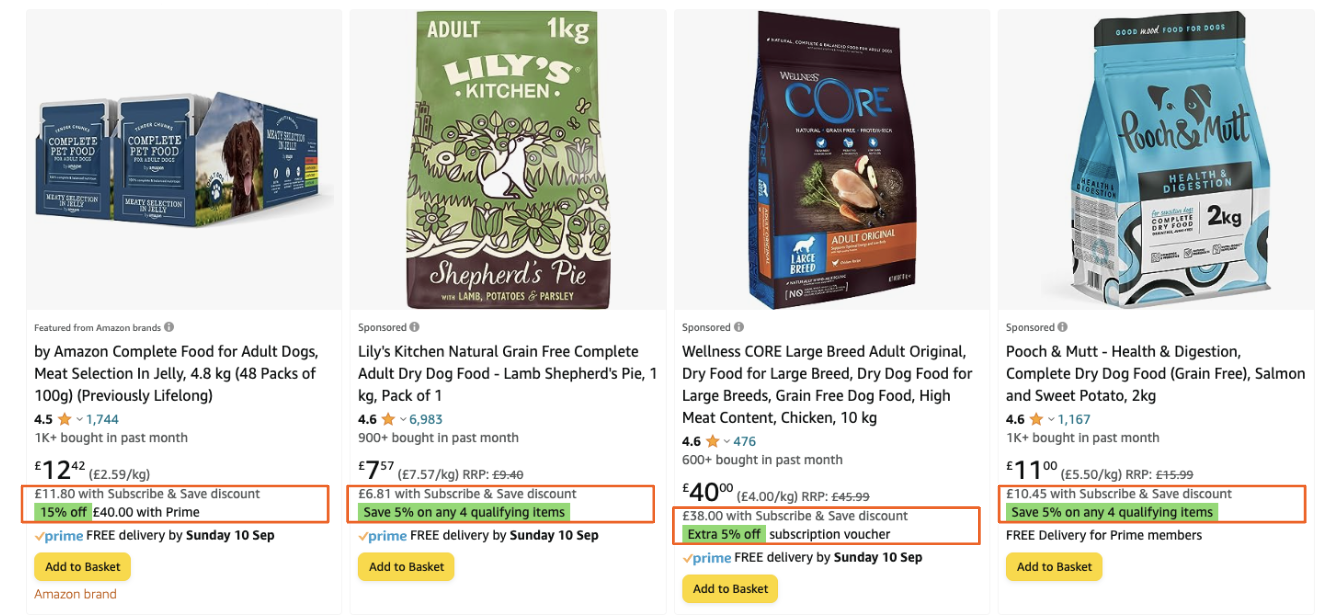 With customers across both categories also choosing to search for specific brand's directly rather than generically due to the loyalty in place - 53%of searches are branded - this also opens up the importance of using Sponsored Ads & DSP to capture competitor shoppers attention and drive towards your brand. As highlighted in the example below - brand's S&S offers appear prominently in ad placements.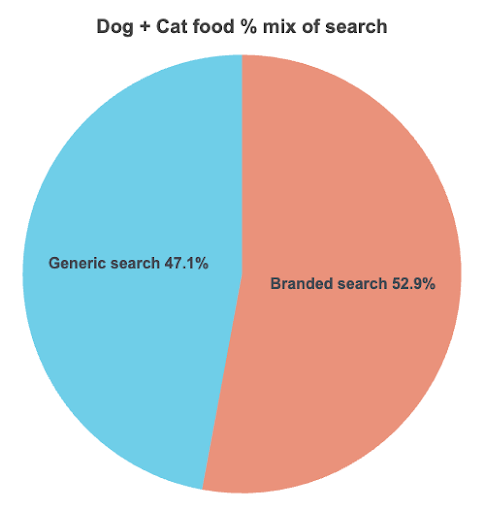 In closing, it is clear that Subscribe & Save is an important factor for brands to consider which operate within the Dog & Cat food category and any other brand in a category where a product needs to be replenished . Utilising Sponsored Ads & DSP as a way of driving awareness of your offering is a great way to engage with potential new customers, whilst regularly reviewing subscription rates & S&S revenue penetration of your overall sales will understand whether offers are effective enough.