Is Agora the Future of Online Beauty Shopping? A Close Look at the Platform
Agora is an emerging online marketplace that specialises in the beauty vertical. Unlike traditional marketplaces such as Amazon where there are strict creative formats that are followed for every brand, Agora uses video content created by its community to promote products. The content creator is part of the community and can purchase products as well as create videos to promote other products which is incentivised by gaining coins.
The look and feel of the Agora platform are different to other marketplace and can be likened more to TikTok with the ability to scroll through lots of video content with the ability to like, comment or share the post. You can also follow the content creator to see more about their beauty regime much like other social channels. Users of the platform can use Agora in a more familiar way through searching or browsing the categories to find the product that they want. This area of the app still has some focus on video content through promoting live shows that are coming up that day through content creators who clearly have gained greater presence on the platform.
The Agora community allows its users to have profile pages which contain all the posts and can be followed by any app user. In a similar way to Instagram, Agora allows users to create a bio which appears to be used in a similar way through promoting their other social media accounts on TikTok or Instagram. It seems to be quite an exciting space that has merged ecommerce and social into one incentivising it's community to promote the products that exist.
From a brand perspective, some brands have their own Shops which house all of their products, this is what links you to 1P products only and allows the brand to have control. There are also a number of 3Ps that also sell the brands that are appearing in dominant positions with category and brand pages. The 3Ps also can create shops that contain all of the products that they sell across the brands. The set up from a brand perspective gives the impression that it may be difficult to have control over it's sellers.
Despite this revolutionary marketplace approach, it still appears to be very low key. We can see that in recent months the number of downloads have significantly declined.
Source: Similarweb
We can also see that user engagement is relatively low for the app with there only being just under 5,000 monthly active users who on average spend under a minute on the app each time.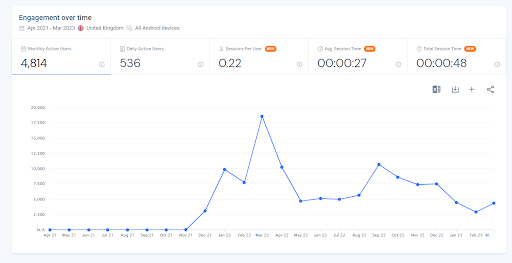 Source: Similarweb
At Tambo, we are hopeful that platforms like Agora can grow and offer something different. There is a need for marketplaces that can promote beauty and luxury products in a more effective way than other marketplaces. This platform shows some signs of slowing down but it could be one to watch for the future. Some brands may be working with influencers who work with Agora who may offer an opportunity to test which would be a good place to start for now but this would be to a very small audience.