Homeware: Are Amazon a clear category leader?
There have been recent reports suggesting that Amazon is dominating the Homeware sector, using Similarweb we can take a closer look at who are the largest homeware sellers. When looking at the "Home and Garden" categories, due to Amazon being such a large and diverse seller, only specialists in the category are included and the likes of Amazon and other retailers/marketplaces with a broader range are excluded. Through the data, we are consistently seeing the likes of Ikea drive large shares of the traffic volume with other sellers such as Leroy Merlin and B&Q (diy.com) in the UK. The category itself is broad and can stem across many items in home and outdoor.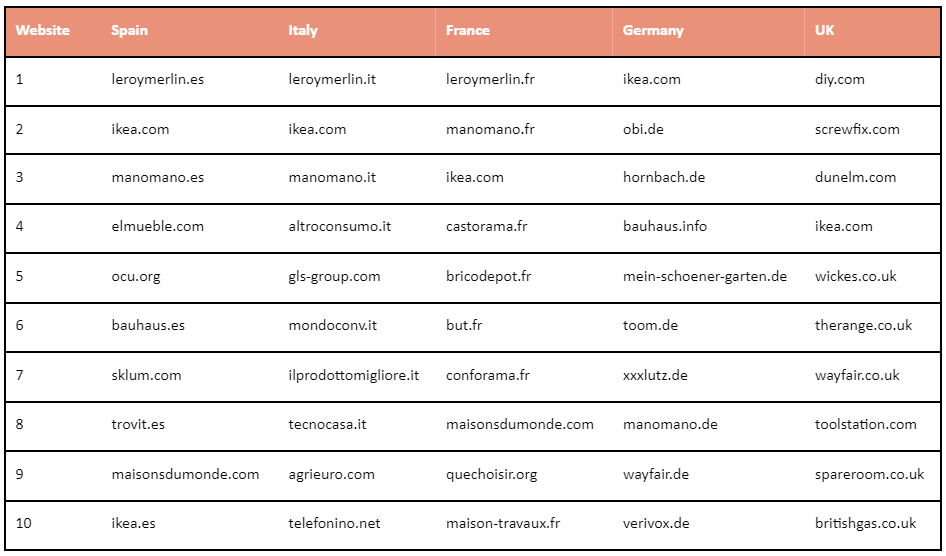 Source: Similarweb - April - June 2023 - Home & Garden category
Comparing some of the key searches in the category to Amazon, we can see in some scenarios that Amazon have larger volumes, for example with garden furniture and desks. However broadly across this group, Google have much larger search volumes through areas such as sofa bed, sofa, blinds and wardrobe which we could assume that consumers would not typically visit Amazon for.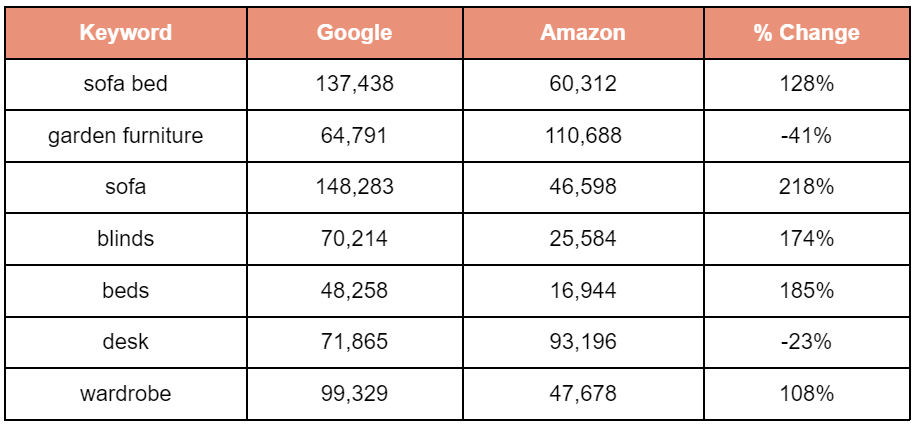 Isolating some product categories in the UK and Germany, we can see that Amazon still have some way to go in having category ownership for certain products, e.g. for "sofa bed", we can see that Dunelm is a close competitor and Ikea is around double the size in regards to traffic.
Source: "Sofa bed" traffic on Amazon, Ikea and Dunelm - UK - last 12 months
For the keyword "wardrobe", we can see a very similar situation with Amazon and Dunelm being similar and Ikea being around 3X larger than Amazon in terms of traffic to pages related to the item.
Source: "wardrobe" traffic on Amazon, Ikea and Dunelm - UK - last 12 months
In Germany, we are seeing a tighter playing field with Ikea marginally dominating for the keyword "kleiderschrank" (wardrobes in English).
Source: "kleiderschrank" (wardrobe) traffic on Amazon and Ikea - DE - last 12 months
Then for the final example, in Germany we are seeing Ikea dominate but only marginally for "schlafsofa" which means Amazon has made some solid ground but still has some way to go for multiple categories.
Source: "schlafsofa" (sofa bed) traffic on Amazon and Ikea - DE - last 12 months

Tambo's view
We recognise for certain homeware products that Amazon would likely come out on top for the same reasons as why consumers purchase from them everyday, Amazon is a trusted, convenient platform with often the best prices. Despite this, there are many categories that specialists would come out on top. For example, Dunelm in the UK have some specialism in curtains and blinds and this is not something that consumers would typically flock to Amazon for based on the requirements and information needed by the consumer. In time, we could expect Amazon to make a move to grow it's home and garden category further but there would be some requirement to add greater visuals on a PDP to aid the consumer and through giving the necessary information and support to make an informed decision.